Hi
Finally my post for the Liebster Blog Award I received from 4 nice ladies (
Milly
,
Kate
,
Heli
and
Emma
).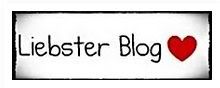 Liebster is a German word meaning favourite, dearest or beloved and the Leibster is awarded by Bloggers to other newer Bloggers who have fewer than 200 followers to spread the word and help the new(er) Bloggers gain wider recognition. The award comes with four conditions which each recipient must satisfy when accepting:
1. Choose five up- and- coming blogs (with fewer than 200 followers) to award the Liebster to.
2. Show your thanks to the Blogger who gave you the award by linking back to them.
3. Post the award on your blog. list the Bloggers you are giving the award to with links to their sites. Leave comments on their blogs so they know about the award.
4. Share five random facts about yourself that people don't know about you.
Since every blogger I can think that has less than 200 followers already received this I'm not passing it on. By the way, every blog that I follow is Liebster for me!
As for the five random facts about myself here they are:
1 - I'm the messiest girl you'll ever know! My room can always be described as utter chaos! I should post a pic of it right now, but believe me you'll be scared!
2 - I'm always late! When boyfriend comes to pick me up to go out he waits patiently for at least 10 minutes every time! (I know he's an angel for being so patient).
3-I have a thing for nail polish! Even though I already have something like 20, I keep buying new ones, just yesterday I bought 2 more! Do you like the colours I've chosen?
4-I'm in love with Sweet Williams, here there's the first one starting to bloom in my garden
5-Even though I look better with my hair short I don't like short hair while I love long ones: do you think they're long enough?
(note how this pic has been cut so that none of the messy room around me can be seen!)
In the end a pic of my ORT jar: I didn't stitch a lot lately, but the proof that I've stitch a little are all the blue orts coming from Paradigm Lost.
I didn't blog for theme-a-licious on the 15th because that day I actually started to stitch on PL so there wasn't a lot of progress yet! I'm hoping to manage to finish page 3, even though I'm not hermitting this month, other things came in the way!
I'm off to tidy my room now! I'll be back with a flowery post!