Today I'm really happy, I've finally finished my first Mirabilia!!!
Thanks to the IHSW I picked her up friday evening and I didn't left her until she was finished!
So here she is....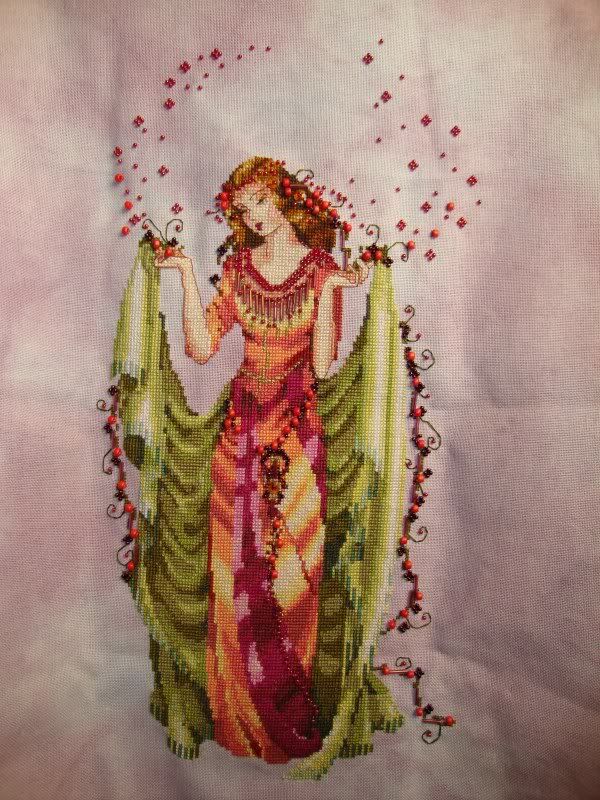 Forest Goddes by Mirabilia

32 ct Lugana By Silkweaver in Dusk
DMC floss and Mill Hill Beads as listed
02/2009 - 10/2011


Of course it doesn't take more than 3 years (OMG!!!) (I got wrong, I started her on February 2009, not 2008, so it makes more then 2 years - OMG as well!!!) to finish her, but before her I had just stitched very simple things like LHN, so it wasn't easy to learn how to tackle with all those colours! Also it's my first beaded project and I've learned that beading while stitching isn't really wise, that's why JGF didn't saw a bead yet.
Anyway, I loved to stitch her, she was the first I fell for when I first discovered Mirabilia, and still now is one of my favourites.
I really like the beads around her head: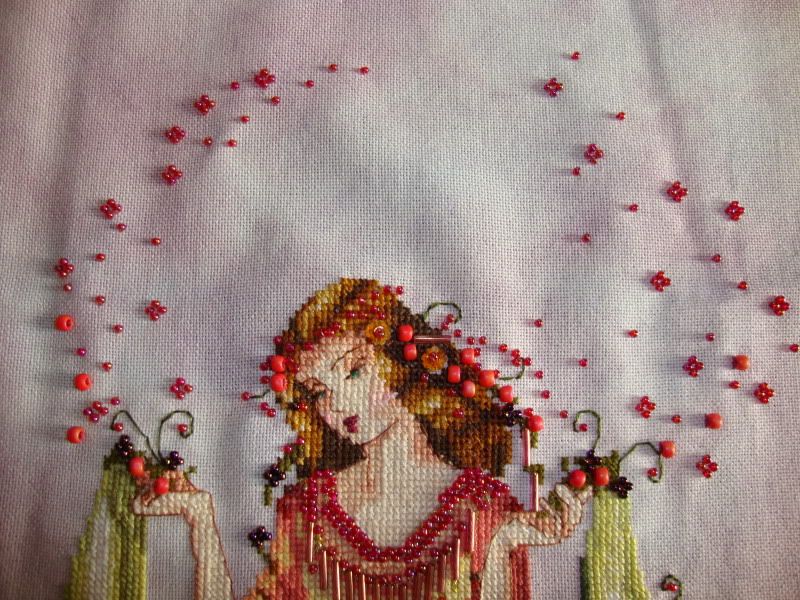 I think it took me so long to get her finished because of her skin: at the beginning I was making it over 2, then I saw a Mirabilia with the skin made over 1, I decided that it was just gorgeous and I had to make my FG over 1 too!
So I frogged what I've already stitched and restarted it over 1..... it was a nightmare!
So I frogged again and re-restarted over 2....
Then I think I got mad, fallen in love with over 1 again....you now, frogged, re-re-restarted...
In the end I had to confront the truth... I would never finish her, stitching over 1 was really upsetting me, I didn't like the way it was turning out, I got immediately tired when stitching it, so I took my final decision, and finally she had all of her skin done over 2!
Here's a close up of her face, I think she's nice, even if it's not over 1
Hope you like her, and expect another Mirabilia Happy Dance by the end of the year...